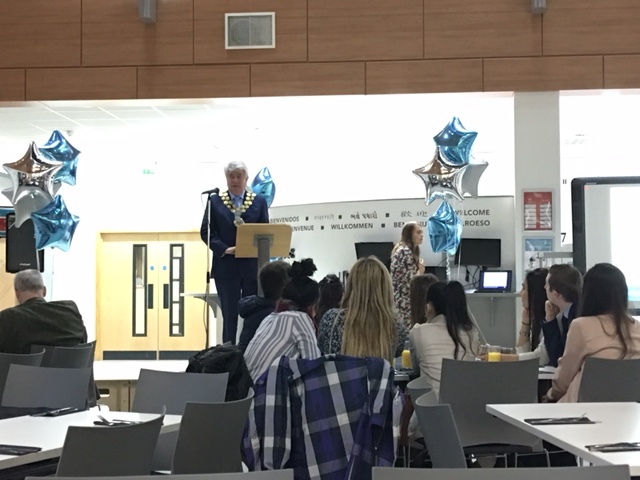 Last night, I was proud to attend the Global Entrepreneurship awards ceremony with pupils and staff from our school. The event was organised to celebrate the work undertaken by schools across the District as part of a global challenge to raise money for charity while developing entrepreneurial skills.
The challenge formed part of Global Entrepreneurship Week, which is designed to help young people begin their own businesses. Each school was given a £50 loan to generate as much as possible for their chosen charity. Pupils then had to create their own business plan and come up with innovative ways to raise funds, which included selling products at two Alternative Markets on November 13 and 19 in New Street, Huddersfield.
As you will know, our pupils chose to take over our school kitchen and served meals to all of our pupils and the entire staff team. The day was an overwhelming success and last night the team were rewarded with two whole school and two individual awards:
Most profit made for charity
Most innovative idea
Most positive pupil - Jaheim P
Most creativity - Marcus T
Particular thanks goes to Stephen, our fantastic Hospitality and Catering Instructor who mentored and supported our team.
Most importantly, however, I am proud of the money the team raised on behalf of our school, which was donated to Save the Children to support the children and families in Haiti who were overwhelmed by Hurricane Matthew. An estimated 25 percent of the country was affected by Hurricane Matthew in November of this year. Some 300 to 800 people were killed, and 29,000 homes, schools and other structures were damaged or destroyed.
Save the Children's work in Haiti spans more than 40 years. To date in this crisis, they have deployed emergency responders, as well as an Emergency Health Unit, staffed by doctors and health experts from around the world. They are focused on delivering food, hygiene kits and other urgently needed supplies, suppressing any cholera outbreak, protecting vulnerable children, and continued needs assessment to meet immediate needs, restore education and more.
If you would like to join us in raising money for this worthy cause you can do so by clicking and donating here.
Sarah Wilson